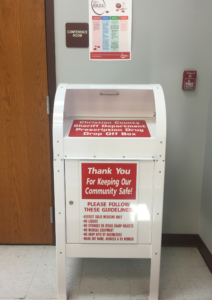 The Christian County Sheriff's Office provides a safe place to discard prescription medicine which is designed to significantly reduce the prescription drugs in Christian County homes that are either no longer needed or outdated. These same drugs unfortunately have become the target of theft and misuse, oftentimes by people who have access to the residence. America's 12 to 17 year olds have made prescription drugs the number one substance of abuse for their age group, and much of that supply is unwittingly coming from the medicine cabinets of their parents, grandparents, and friends.
This drop box is available to anyone who wants to rid their homes of these medicines.
The guidelines are as follows:
Deposit solid medicines only
NO LIQUIDS
NO SYRINGES OR OTHER SHARP OBJECTS
No medical equipment
No drop offs by businesses
Make sure and mark out the name, address and RX numbers
The prescription drop box is available during our normal business hours, Monday-Friday from 8:00 am to 4:00 pm.